You are kindly invited to join us for HEAVEN on EARTH – a one-of-a-kind, luxurious, healing retreat on the beautiful paradise island of Maui, Hawaii.
HEAVEN on EARTH is an impeccable and elegant fusion, as we offer the highest quality Yoga, meditation, sound healing, nourishment, Ayurveda, Tantra, dance, excursions in nature, and healing ceremonies. 
You will learn from an Indian Yoga Maestro (Shazi Usman), an American High Priestess (Ruby Chase), a World-Class Sound Healer (Equanimous), a Doctor of Divinity (Reverend Kedar St. John D.D.), a Longevity Coach (Shelley St. John R.N.), a Master Healer (Fabiana Brandão), a Yoga Expert (Aren Wolf), a Fitness Expert (Araz), a Tantra Master (Lori Grace), an Enchanting Sound Healer (Lindsay Nance), a Powerful Healer (Daniel Vinhas), a Yoga Expert (Nancy Sophia), a Reiki Minister (Lucio Nieto), a Gifted Lightworker (Rosanna Keri), and other Magical Beings & Angels.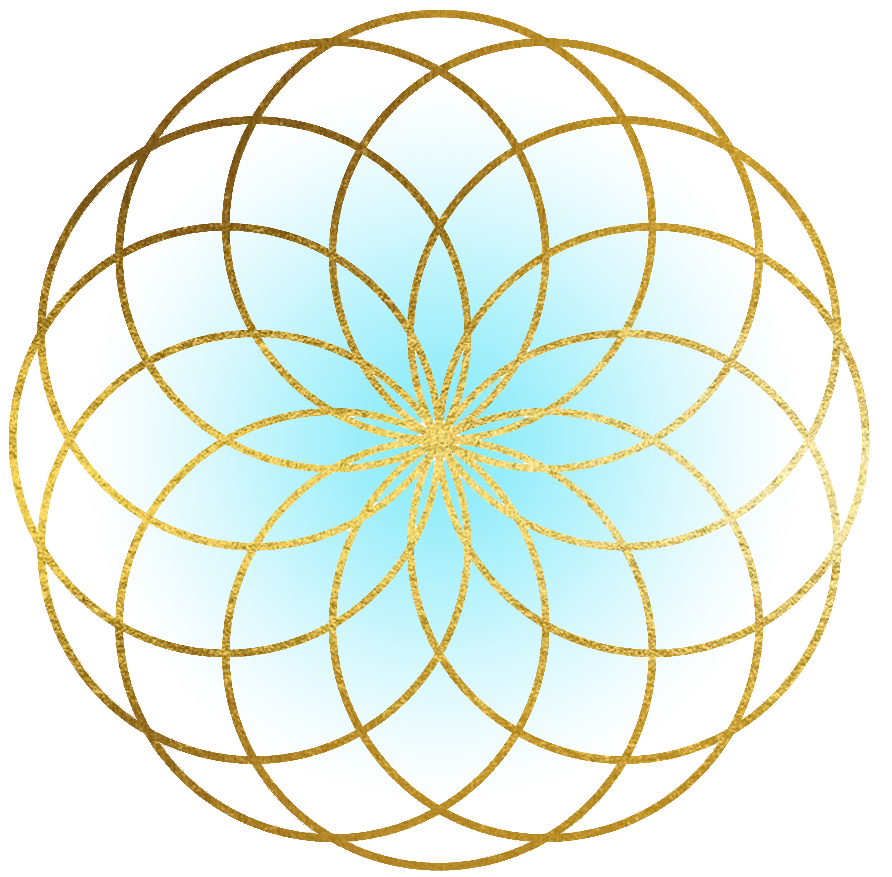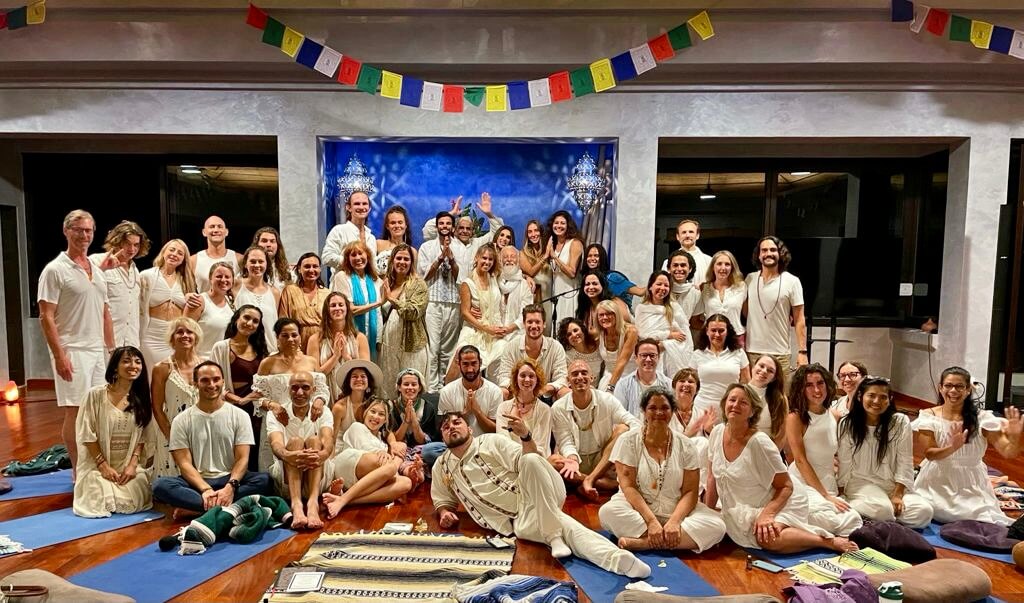 Nourish your body, inspire your mind, and treat your soul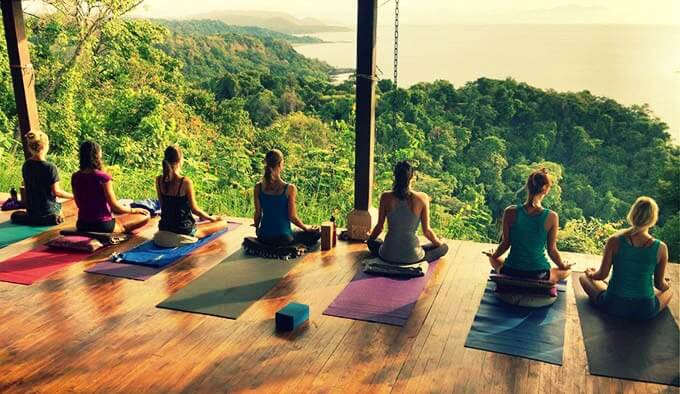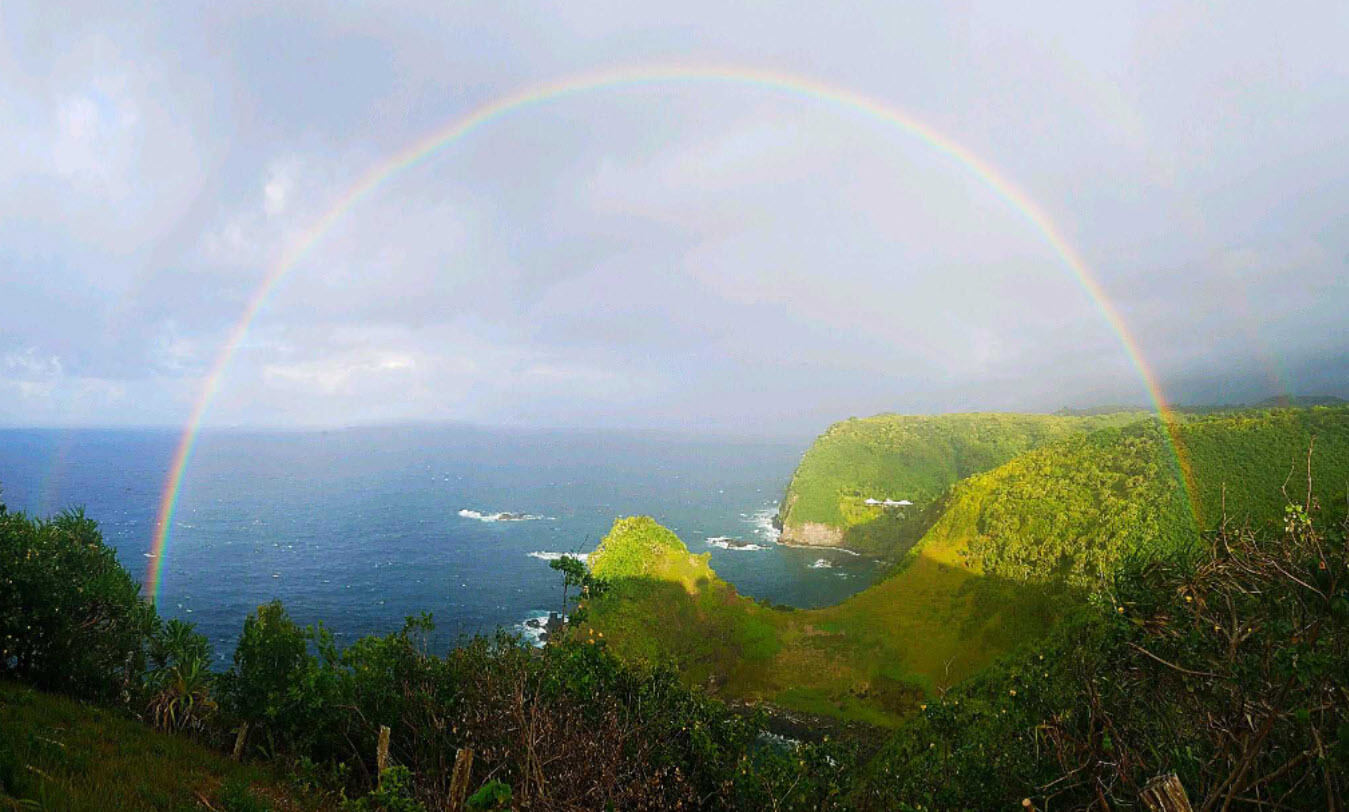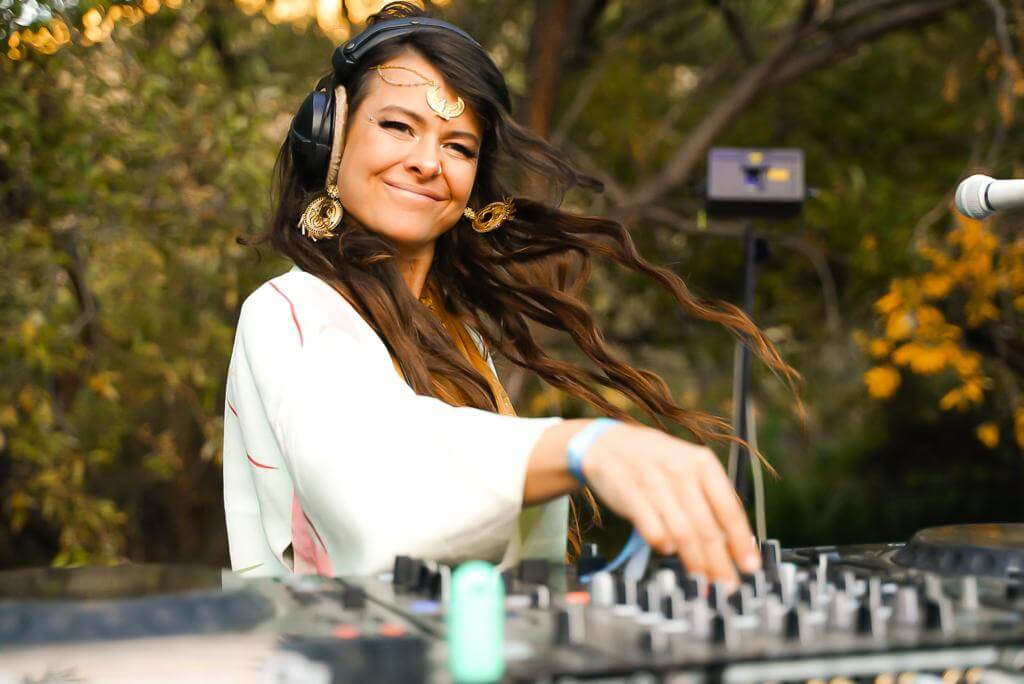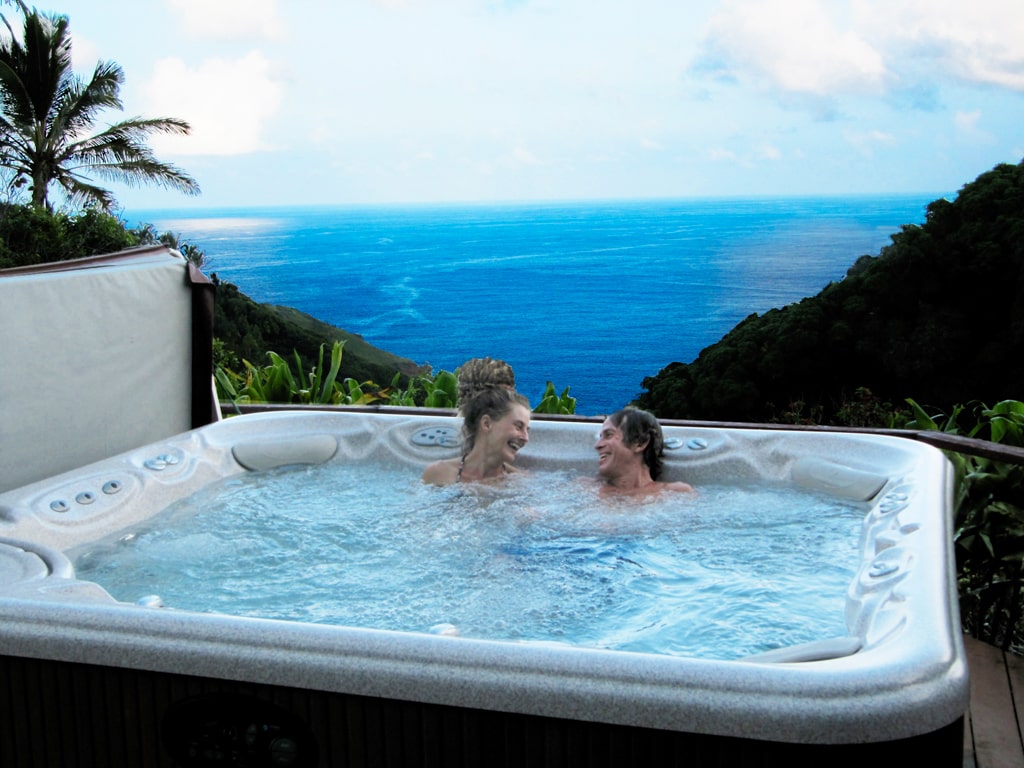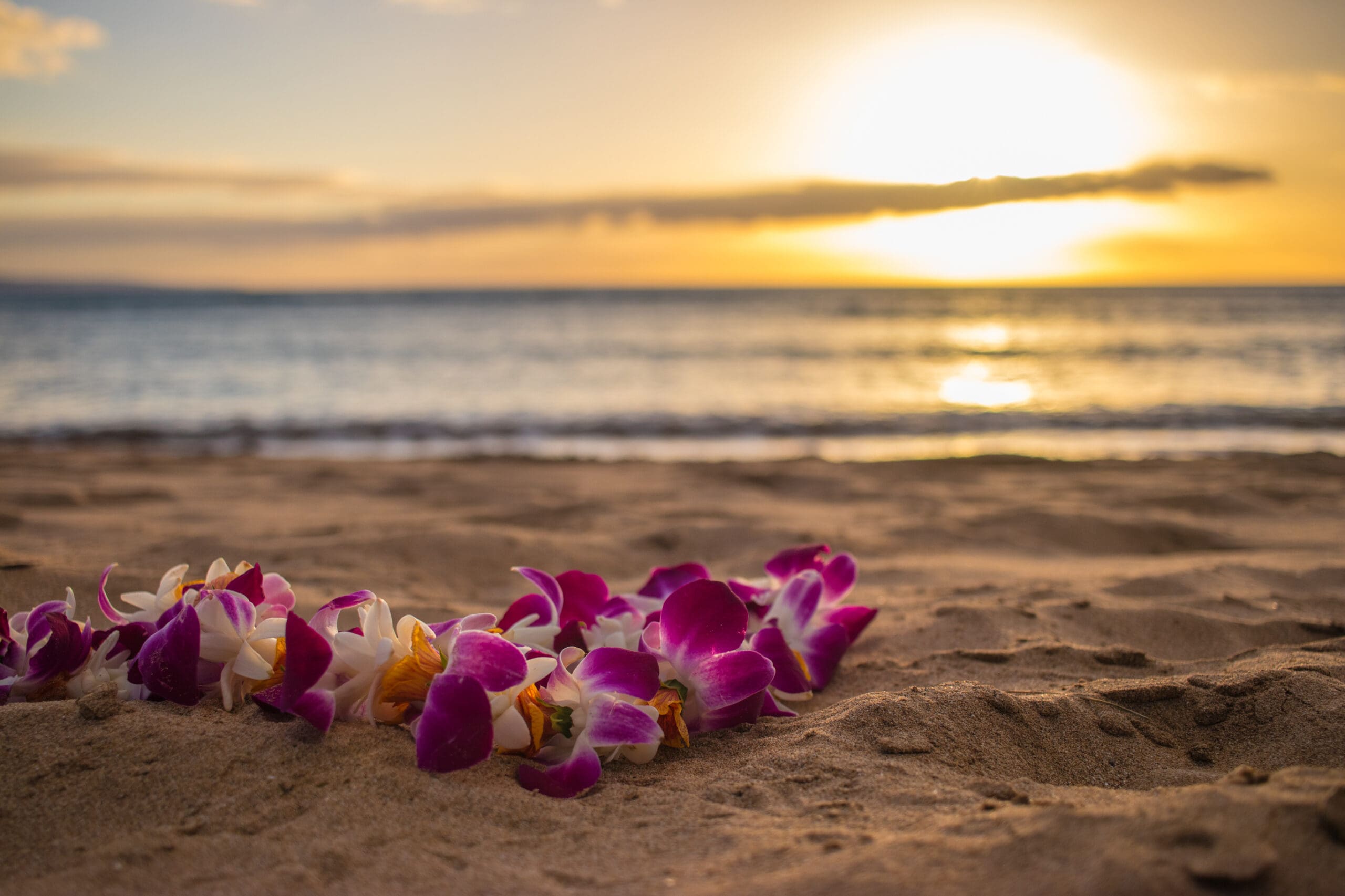 What Your Retreat Includes:
8-night accommodations at Hale Akua or Maui Eco Retreat on the paradise island of Maui, Hawaii
3 healthy, delicious, organic meals per day
Energy Cleansing Ceremony
– With Palo Santo, Sage, Blue Lotus, Frankincense, Myrrh, Sweet Grass, Sandalwood, Rose, and other Sacred Herbs
Daily Yoga & Meditation sessions
– Minimum 3.5 hours each day, many styles offered
Mudras & Mantras Workshop
Magic (Hermetic, Qabalah, Sufi, and Tantra)
Ecstatic Dance Celebration
Sound Bath by professional musicians with exotic instruments from all over the world
Day trips and excursions in nature
– Wild turtles, exotic beaches, jungle waterfalls, hiking, butterflies 
Free Time
– For relaxation, journaling, hiking, surfing, excursions at the beach, zip-lining, adventures
Hawaiian Lu'au and Hula Dance

Our beautiful home for the week,
Hale Akua ("Home of the Divine" in the native Hawaiian language) is an exclusive, intimate, and secluded jungle garden retreat offering wonderful healing retreats in a spectacular natural setting.
Deep thought and consideration was given to the placement and location of every structure at Hale Akua, so as to remain "at-one" with the 'Aina (or Spirit in Hawaiian) of the land, the jungle, and the ocean, with minimal environmental impact and utilize renewable energy methods.
Maui Eco Retreat is built upon land known by the Ancient Hawaiians as the "resting place of mature souls." Your exclusive, eco-conscious paradise away from big hotels, Maui Eco Retreat has been a leader of ecotourism since its founding in 1998. Here you will find refuge from the hustle and bustle of the modern world: reconnect with nature, find inner peace, awaken your eco-soul, and simply relax. Where your vacation becomes a transformation.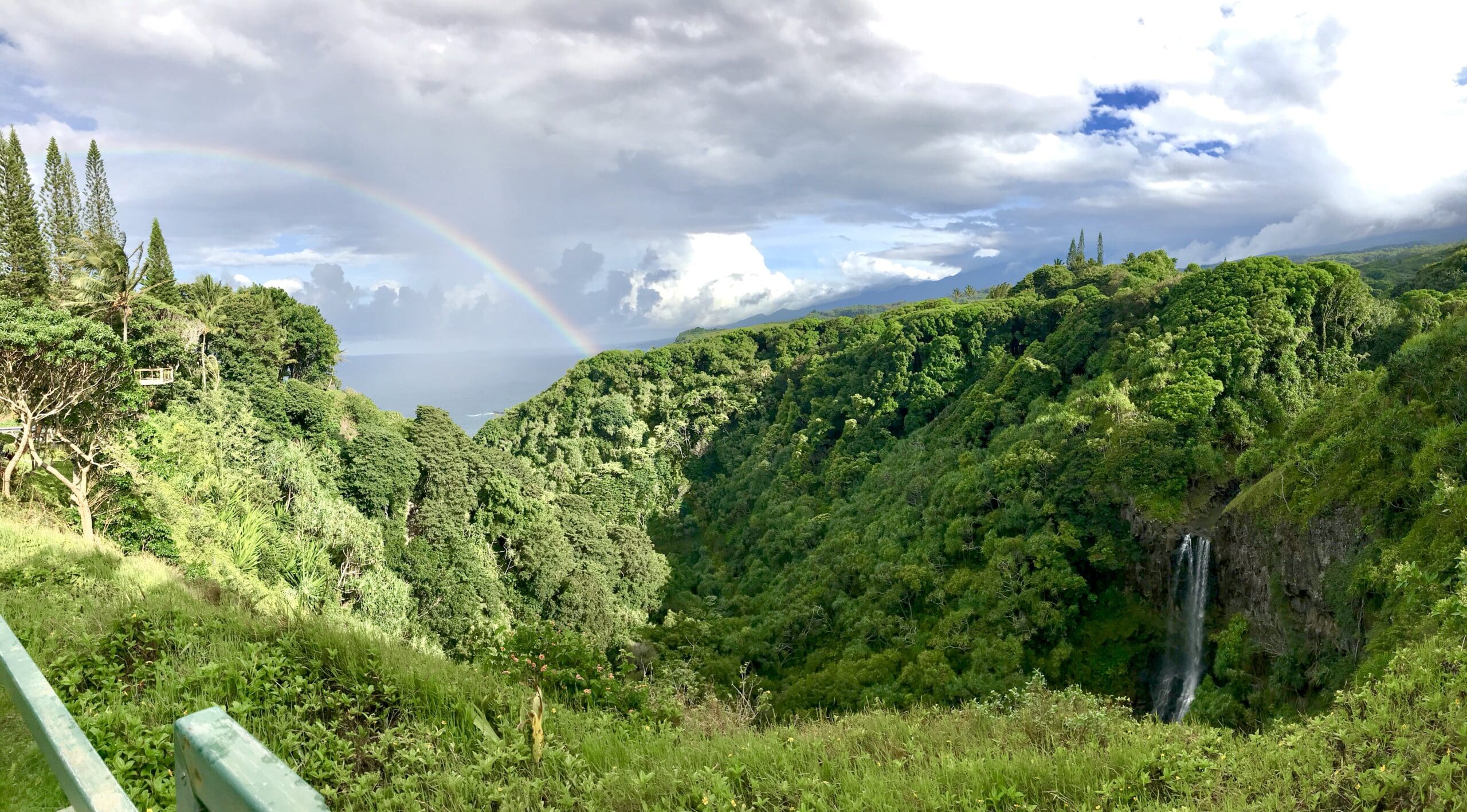 Attend solo or bring your friends and family!
Join us for this experience of a lifetime: an 8-night immersion of Yoga, meditation, sound healing, magic, dance, and excellent self-care. This event is an all-inclusive retreat for all levels (from beginner to advanced) at Hale Akua, a beautiful, private estate in Haiku, Maui in the Hawaiian isles.
 During this immersive retreat, you will dive deeply into all eight limbs of Yoga:
1. Yamas (yogic ethics), which will raise your individual—and, by extension, the collective—consciousness
2. Niyamas (yogic observances), which will empower you to achieve your highest potential and abundance
3. Asanas (yoga postures), which will strengthen and refine your body, mind, and spirit
4. Pranayama (breath work), which will send prana ("life force") into every bone, muscle, and cell of your body
5. Pratyahara (transcendence of the 5 main senses), which draws your awareness inward, so you can cultivate inner peace and discover your life purpose
6. Dharana (refined concentration), which will inspire you to manifest your dreams into reality
7. Dhyana (meditation), which will calm your mind to create more magic and serendipity in your life
8. Samadhi (enlightenment), which will give you the feeling of joy, so you can find peace and equanimity in every moment of your life.
In addition to the yoga classes and dynamic meditations, Shazi Usman and the Heaven on Earth team will offer powerful workshops on ayurveda (which is "the science of life"), magic, tantra, mantras & mudras (based on the sacred traditions of India), chakra healing ceremony, moon ceremony, yoga nidra, an ecstatic dance celebration, and a sound bath by professional musicians with exotic instruments from all over the world, and more.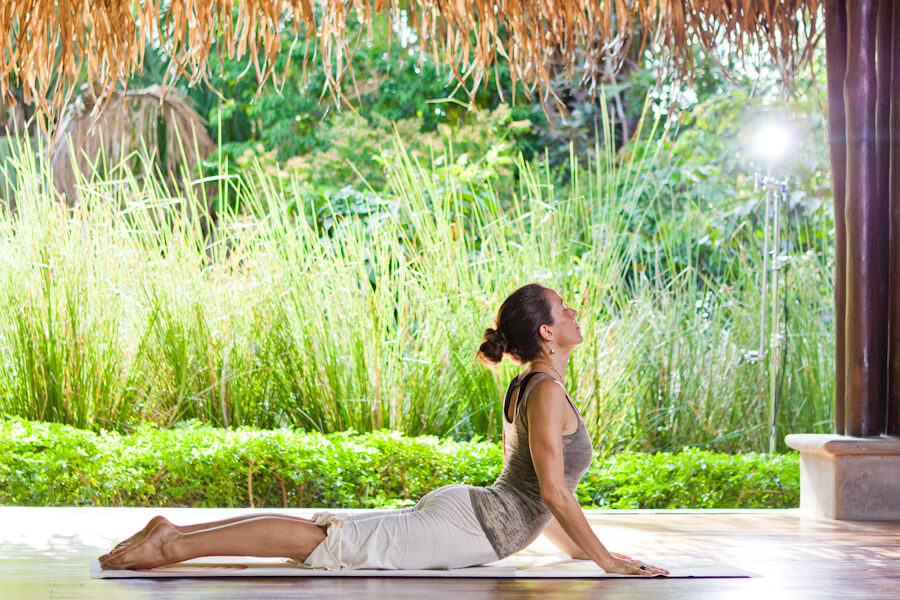 Morning
7am – 8:30am  |
Gentle or Athletic Yoga
8:30am – 9am  | Meditation
9am – 10am  | Breakfast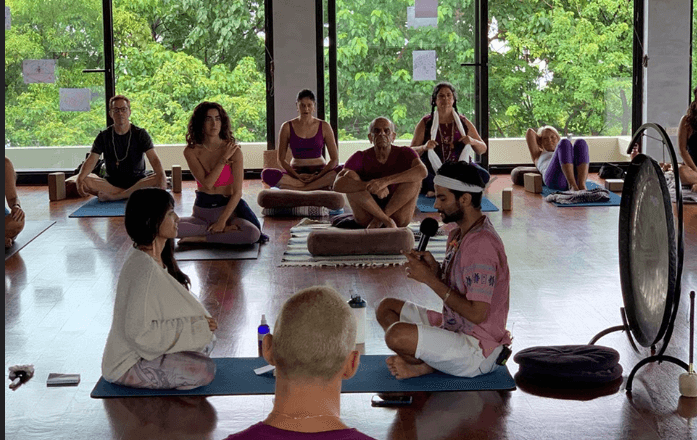 Afternoon
11am – 12pm  |
Quantum Healing & Breathwork
12pm – 1pm  | Mudras & Mantras Workshop
1pm – 2pm  | Lunch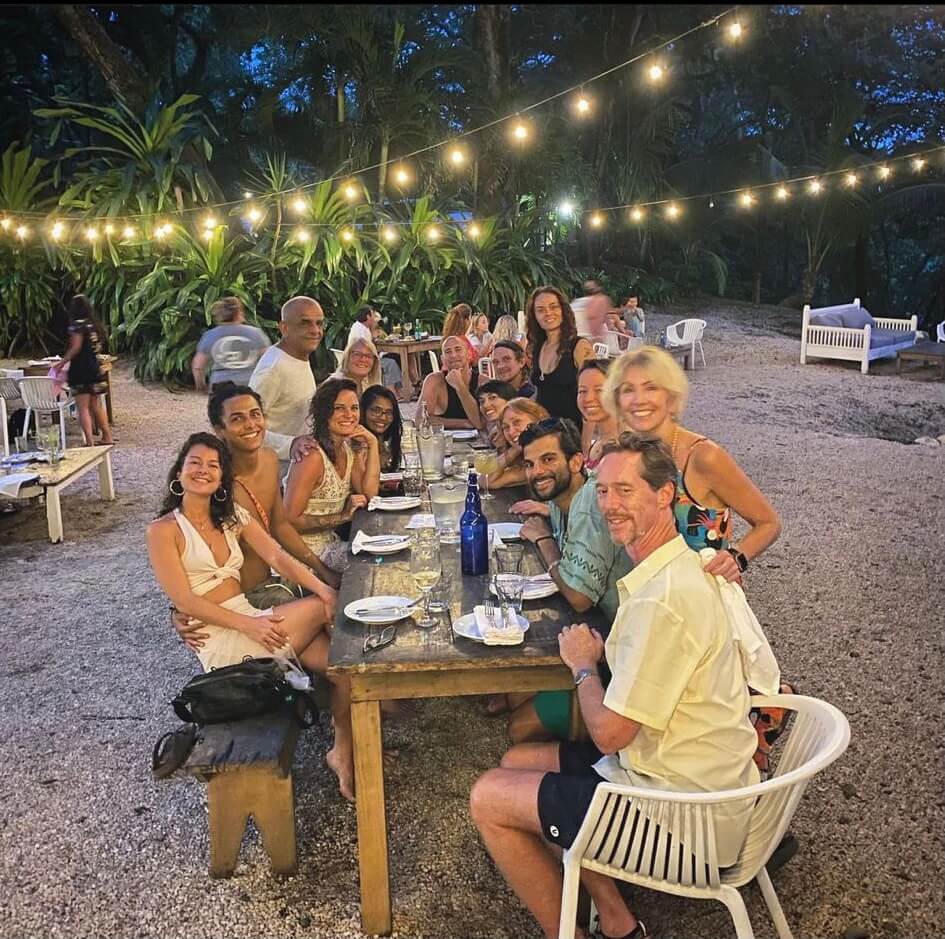 Evening
3pm – 7pm  | 
Free Time
7pm  | Dinner
8pm – 9:30pm  | Cacao Ceremony and Sound Bath by professional musicians with exotic instruments from all over the world
Shazi 
Shazi (born and raised in Hawai'i) is a professional health and life coach, retreat leader, actor, and certified Yoga teacher with over 1,000 hours of training. Deeply rooted in Indian culture, Sanskrit, and compassionate ancient wisdom – Shazi teaches many styles of Yoga and meditation in LA, Hawai'i, Brazil, India, and around the world: Vinyasa Yoga, Bikram Yoga, Yin Yoga, Hatha Yoga, Kundalini Yoga, Yoga Nidra, and more. Shazi first discovered Yoga as a young boy while visiting his family in India, and he has been practicing Yoga since childhood. Through a daily Yoga practice, mindful eating, energy work, and mystical practices (from Zen, Sufism, Qabbalah) – Shazi has embraced a life of good health and vitality.
Through the sacred sciences of Yoga and ayurveda, Shazi has helped thousands of students at Equinox, Hot 8 Yoga, and all over the world to activate the prana ("life force") within and strengthen the mind-body-spirit connection. Shazi has trained with Conrad Gacki, Deanna Ainsworth, Shayna Hiller, Jai Dev Singh, Rebekah Rivera, Eve Bradford, and Isis Indriya. Shazi completed his first 200-hour Yoga Teacher Training at Hot 8 Yoga in California, and he finished his first 500-hour Yoga Teacher Training at Samadhi Yoga in Mumbai. Shazi offers HEAVEN on EARTH retreats and trainings in exotic locations all over the world to share how to attain a deeper feeling of inner peace, joy, and love.
Ruby
Utilizing the power of sound frequencies, Ruby is a modern-day alchemist. Her unique live show weaves a mix of Shanti bass with rhythmic world beats, downtempo house, and global dance music. Ruby Chase takes her audiences on a journey, entrancing them with her ethereal vocals and interactive invitations, generating a unified field and turning the dance floor into a ceremony.
Equanimous
Equanimous is a music producer, DJ, and multi-instrumentalist. He combines downtempo, bass, and house music elements to create a joyous high vibrational atmosphere on the dance floor. Equanimous expands the electronic music experience by playing live djembe, keys, and beatboxing along with his tracks. He's known for his deep bass, beautiful melodies, live looping, and creative rhythmic beats that take people into a state of euphoric dancing and heart-centered bliss.
Kedar & Shelley
Reverend Kedar – Co-Founder Temple of Peace in Maui – stepped into his mission 37 years ago. Born and raised in New Zealand, Kedar began his journey in the 70's as an ordained Hindu monk doing missionary work with the large Hindu population of South Africa. Kedar is a beautiful, wise soul who offers many modalities of quantum healing including ozone therapy, hyperbaric, and Ihealth services. He is a Husband, Father, Priest, Presiding Bishop, Educator, Philosopher, Artist, Musician, Philanthropist and a Humanitarian who has dedicated his life to serving and inspiring people in striving towards a world of peace, healing, and prosperity that works for everyone.
Shelley  – Co-Founder Temple of Peace in Maui – is a Registered Nurse, Certified Colontherapist and Instructor, and Longevity Coach. She has devoted her life to education, inspiration, and empowerment. In 1983, Shelley met and married Kedar St John in Nepal. They became ordained ministers in 1995, creating their ministry together for the sake of peace, service, and devotion. Shelly offers many modalities of healing – especially through colon hydrotherapy and meditation by blending technical skill with intuitive sensitivity, humor, and lightness.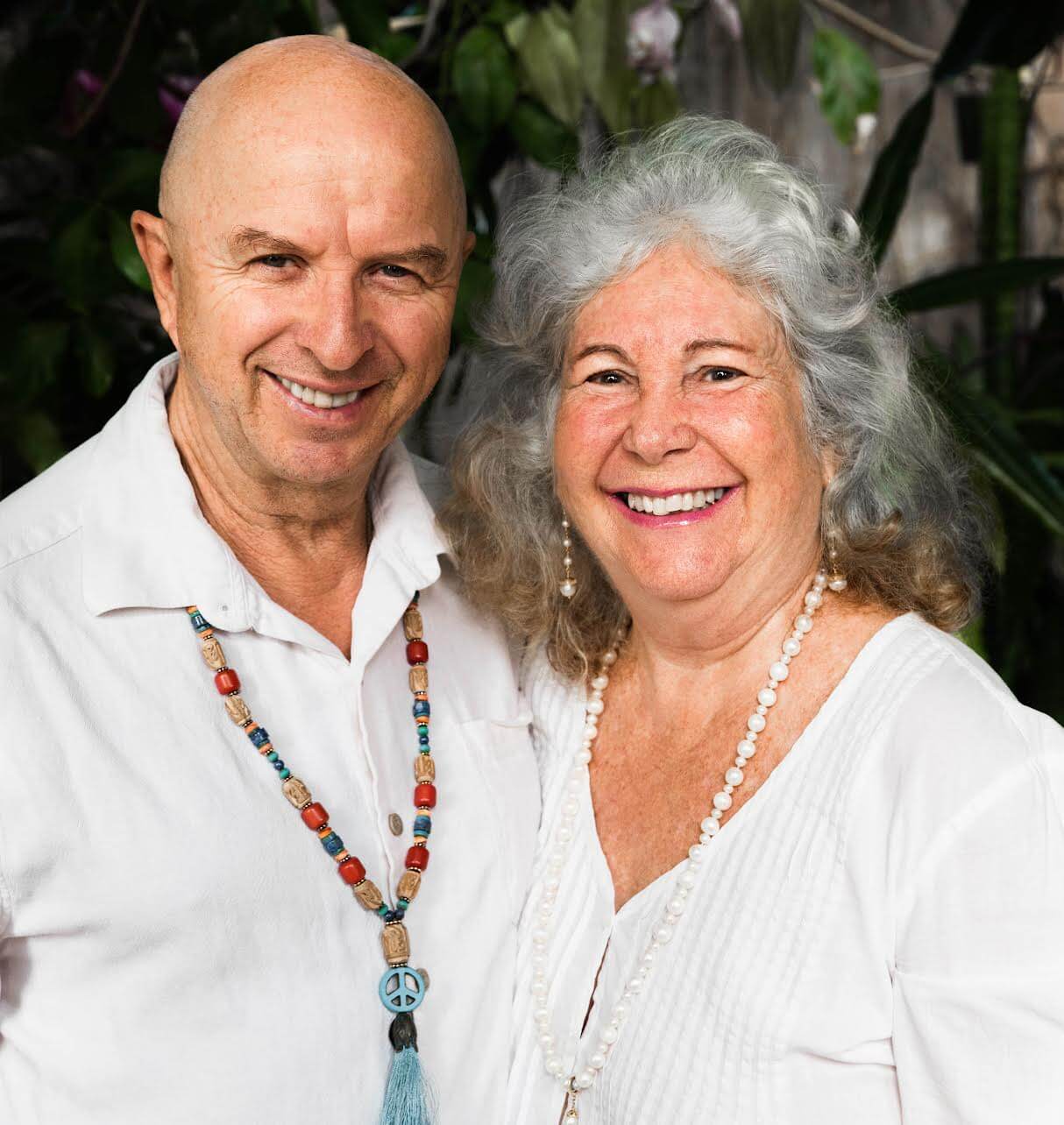 Araz
Araz – who lives in LA and is proud of his Armenian roots – is a talented fitness coach, yoga teacher, practitioner and forever student of the art of being human. Araz completed his Yoga Teacher Training in Rishikesh, India, and has taught fitness at Equinox and Yoga at Peace Yoga Gallery in LA. He combines a multitude of practices and disciplines such as conscious breathing, full range of motion movements, massage, tantra, fasting, and living foods to help people tap into their potential.
Aren
Aren is a leader and facilitator in mindfulness with over 500 hours of training. By utilizing several modalities such as yoga asana, the sutras, meditation, Tai Chi, physical therapy, and functional movement, he enjoys helping people find a deeper connection to the Self, the true Guru. Aren grew up as a multitalented athlete born and raised in Texas. As implied in the famous book, The Body Keeps The Score, every physical, mental, or emotional experience is held in the body. Improving our flexibility is only part of the journey. Curiously exploring emotional tension and witnessing habitual patterns of thinking are important paths on the journey through the country of the Self. In other words, join Aren if you want to relax your issues and heal your tissues. Namaste!
Ashley
 Ashley's passion is to help others heal their body in a holistic way. She is a licensed massage therapist of 10 years with specialties in sports massage, Esalen massage, deep tissue, reflexology, and Thai massage. Ashley is a multi-instrumentalist and offers beautiful, transformative sound healings. She carries a variety of eclectic sacred songs from around the world and loves to help others tap into their voice using mantras and the power of Bhakti Yoga. Ashley is also a Yoga teacher and aerialist. For the last four years Ashley has been living and working at Om Oasis Retreat Center in Santa Cruz, CA – offering many modalities of healing.
Daniel
Daniel is the Assistant Vice President of Financial Services at State Street and a seeker in the arts & sciences of Healing and Self Mastery. He has concluded his 200-hour Yoga Teacher Training at the Boston Yoga School with the guidance of Ame Wren, Ben Chused, and Chip Hartranft. He has devoted his life to the path of plant medicine, meditation, breathwork, self-consciousness, and practical spirituality. Daniel dedicates his time to the upliftment of humanity by allowing inner wisdom to flourish.
Fabiana
Fabiana is a lover of the Buddhist Sutras and a shining example of the essence of the rise of the Sacred Feminine. As a masterful healer, Fabiana has a deep passion for plant medicines, energy healing, chants, and native songs from Brazil (her home country) and other countries in Central and South America. Always connected with plants and the elements of life, Fabiana will help you to harmonize the elements within you and activate your willpower. When sound and touch are combined with the energy of the Sacred Female, healing is inevitable. Nam myoho rengue kyo.
Lucio
Lucio comes from a Latin and Irish heritage, deeply rooted in ties of faith from the genesis of his ancestors. He found his voice on the stage at an early age and has ever since evolved as both human and artist. Lucio is a talented Chef, Ordained Minister, and is currently receiving his final attunements for Reiki Mastership. Lucio is simultaneously expanding his passion for music as a recording artist and writer/director for New Age entertainment. While on the journey of experiencing what it is to be human, Lucio continues to study multicultural faiths, spiritual practices, and religions. Lucio's intention is to bridge the gap for all of humanity – past, present, and future.
Nadine
Nadine Casanova (Kalibri) is an intuitive multi-modality facilitator on a mission to activate individuals and the collective through sound, energy, healing, ceremony, and a wide range unique offerings.  After running a community center in the heart of LA and traveling the world for years facilitating and curating experiences, she has cultivated a powerful channel that elevates and aligns people with their higher self.  Surrender IN to the flow of divine feminine grace and allow yourself to be taken into the unknown, where miracles, miraculous healing, and visions come to life. 
Phoenix
Phoenix has had the rare privilege of studying both yoga and energy medicine with great masters and saints from India and China. His life's work is to reflect their teachings in the purest possible way, for the benefit of all beings everywhere. Om lokah samastah sukhino bhavantu.
Rosanna
Rosanna always leads with her heart, as spirituality is woven into the depths of her being. As the Director of Logistics & Customer Experience for Heaven on Earth, Rosanna has always had a strong desire to make a positive impact in the world. With many years of experience in customer service, medicine, and biotechnology – Rosanna is on the path to becoming an Ayurvedic Doctor. She completed her first 200-hour Yoga Teacher Training with Shazi Usman (her Yoga Guru) at Hot 8 Yoga in California, and she currently offers sound healing & meditation at yoga studios all over LA. Rosanna is a seeker and a lover of knowledge. Her path has led her on a unique spiritual journey that endlessly reveals the beauty that is found in love, healing, and the magic of nature.
Accommodations & Pricing
RESERVE YOUR SPOT IN HEAVEN
Celebrating Community & Connection
Payment plans available. Once you submit your deposit, we can work with you to establish a payment plan that works for you. A beautiful aspect of this retreat is celebrating community & connection, so many participants will share their gorgeous accommodations with each other. If you wish to share your accommodations with a partner or friend, please let us know, and we'll honor your request. If you wish to have a single room just by yourself, please let us know, and we'll do our best to honor your request.
The early-bird discount is only available IF YOU PAY OFF YOUR FULL BALANCE before July 10, 2022 
Use code: EARLYBIRD for $222 off.
TENT IN NATURE
Rate per week per person with all meals included: 
$2,222
The TENT IN NATURE experience offers the beauty of Maui in a humble way, as you take in the lovely nature that surrounds you. You will be located in a beautiful garden area at Hale Akua.  As part of this package, you are required to bring and set up your tent, air mattress/sleeping bag, blankets, and pillows.  Designated showers and bathrooms will be provided. This package includes access to the sixty-foot salt water swimming pool, large jacuzzi overlooking the ocean, a sauna, an organic farm, and breathtaking garden spaces.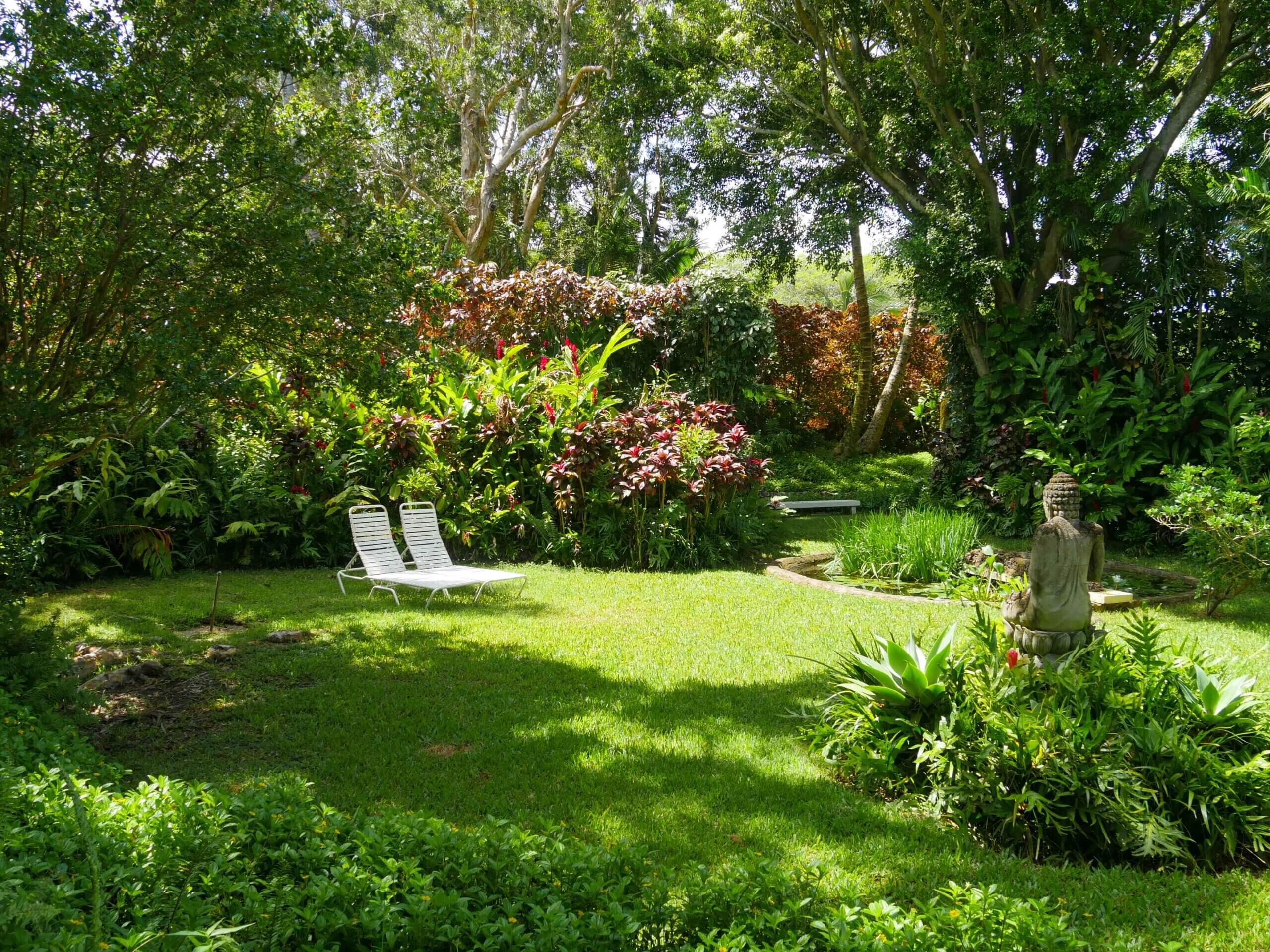 SIMPLE
Rate per week per person with all meals included: 
$3,333
The SIMPLE experience is designed for those who enjoy the simple pleasures of life. These rooms offer shared bathroom and shower accommodations. The divine landscapes are accentuated by the windows that surround the room and look out into the lush tropical foliage. This package offers a minimalist paradise and includes access to the sixty-foot salt water swimming pool, large jacuzzi overlooking the glistening ocean, a sauna, an organic farm, and stunning gardens.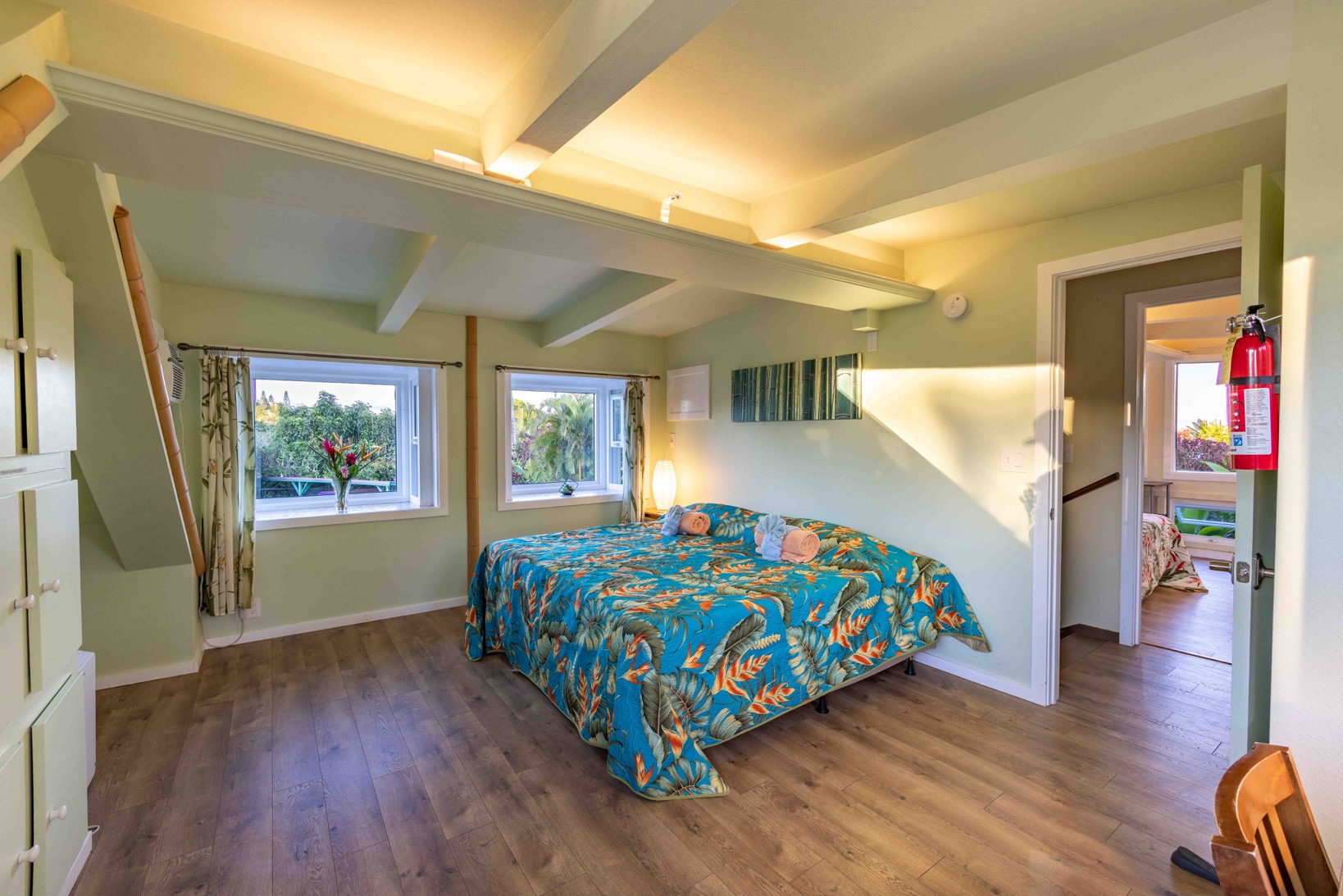 BEAUTIFUL
Rate per week per person with all meals included:
$4,444
The BEAUTIFUL experience includes lovely, spacious rooms with windows that overlook the lush garden and jungle landscapes.  Each room in this package is unique in the way it's been kissed with love and beauty. This package offers a zen atmosphere, pure natural bliss, and includes access to the sixty-foot salt water swimming pool, large jacuzzi overlooking the ocean, a sauna, an organic farm, and breathtaking garden vistas. Come home to your beautiful self.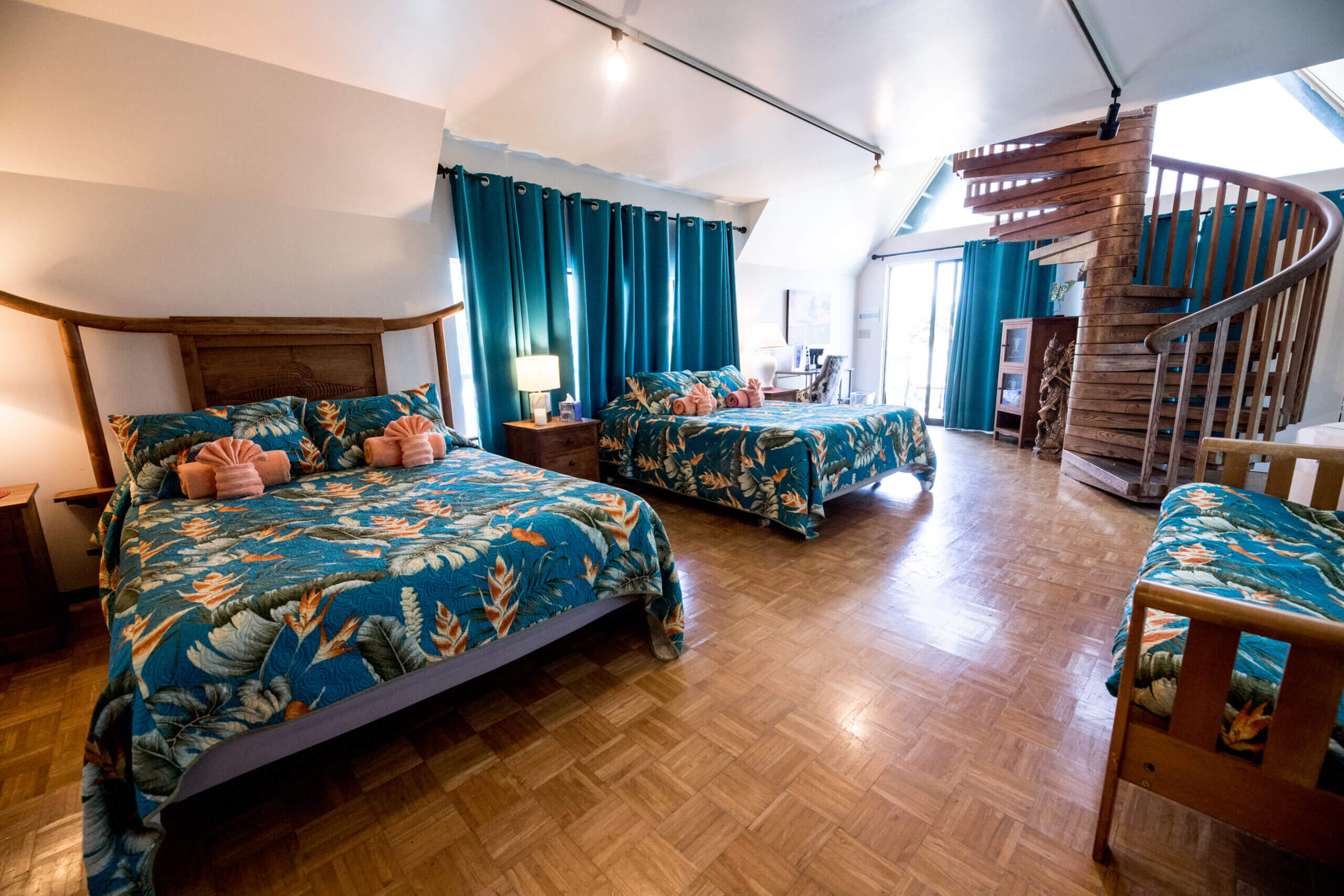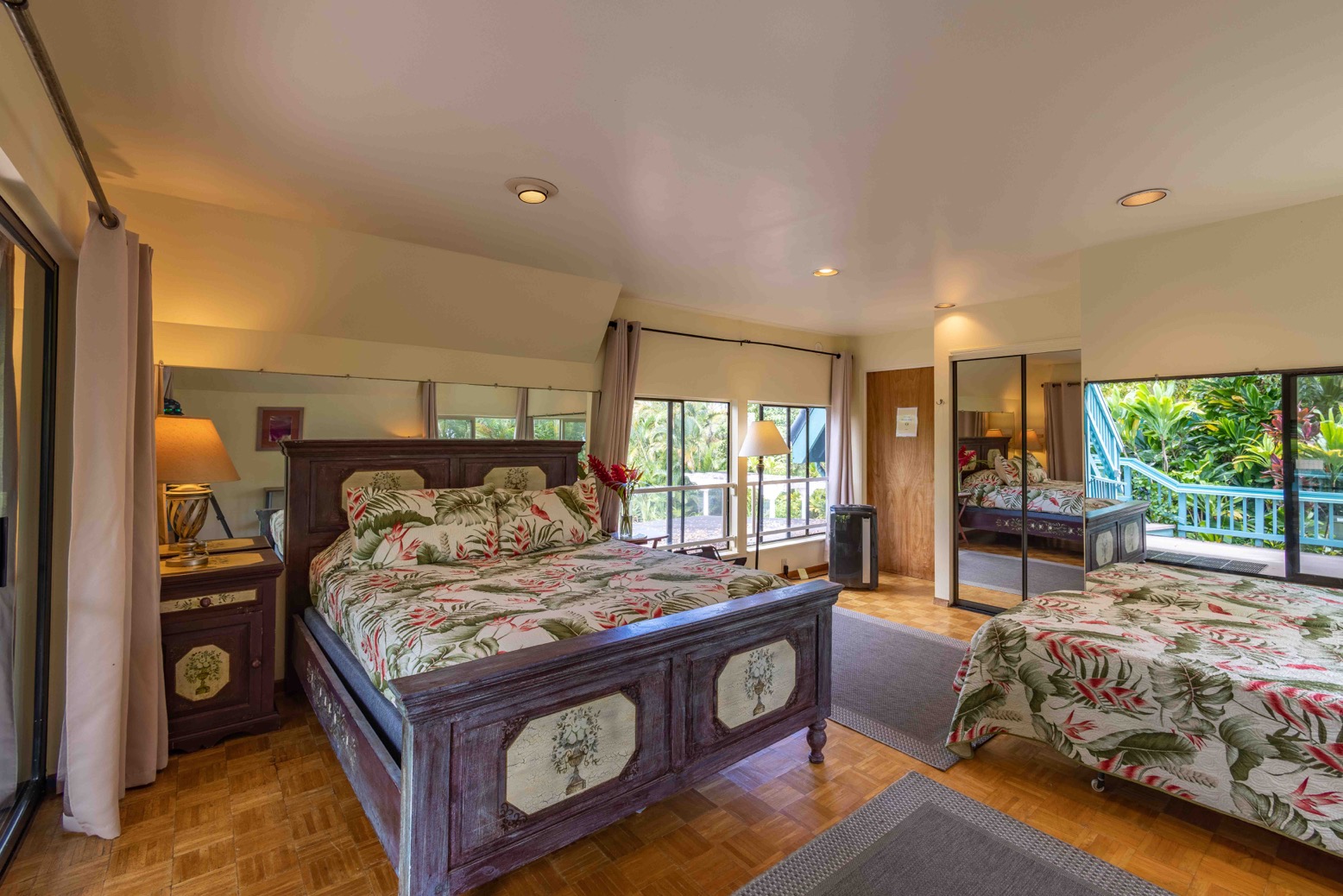 LUXURIOUS
Rate per week per person with all meals included: 
$5,555
The LUXURIOUS experience is designed for those who wish to have elegant accommodations. Infused with beauty, nature, and luminescence – these accommodations offer rare artwork and stunning views of garden spaces and water features. As part of the luxurious treatment, you will have access to a private pool, a sixty-foot salt water swimming pool, a private jacuzzi, a large hot tub looking over the Hawaiian coastline, an infrared sauna, an organic farm, and lush gardens. You will be immersed in an authentic aloha experience and sophistication.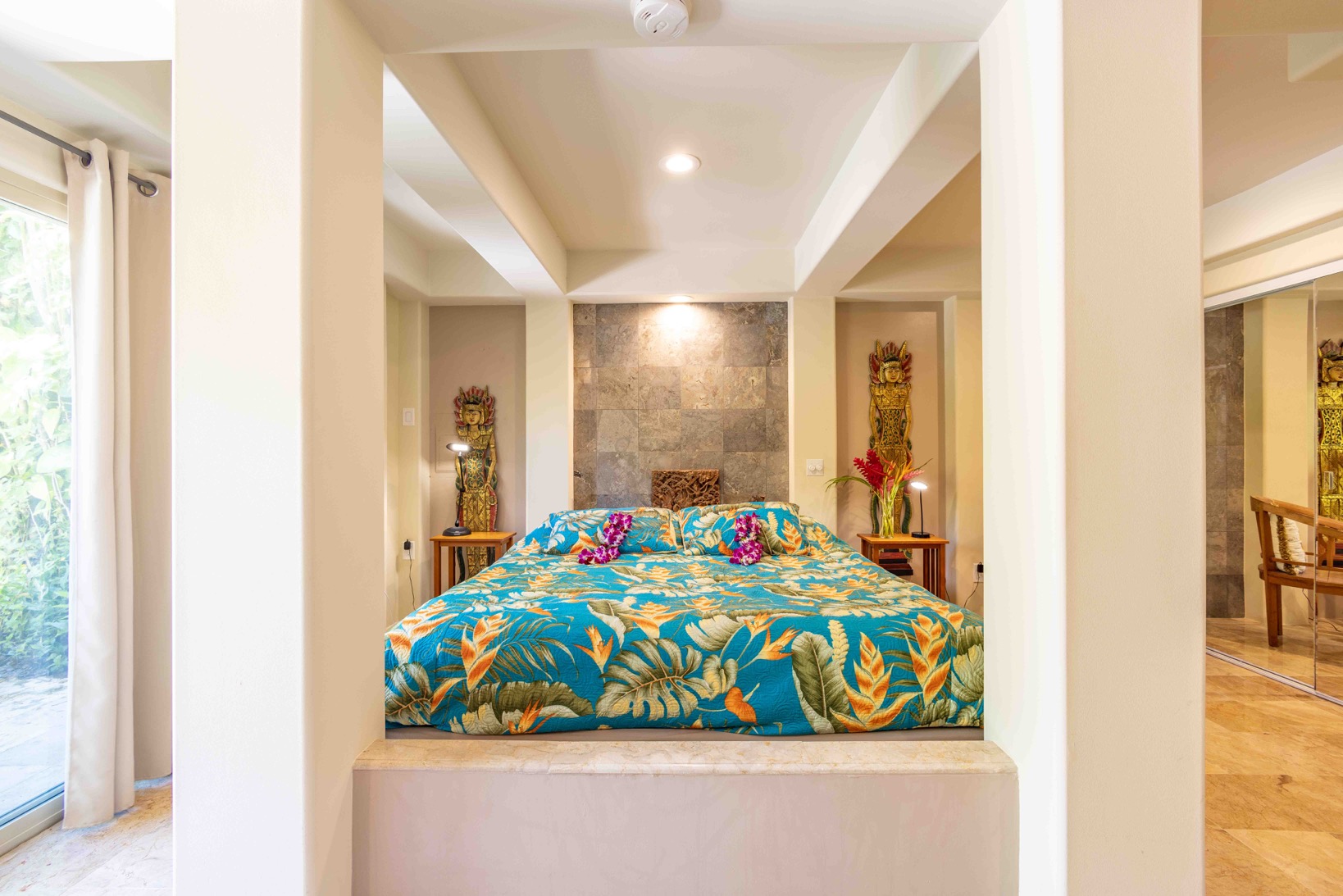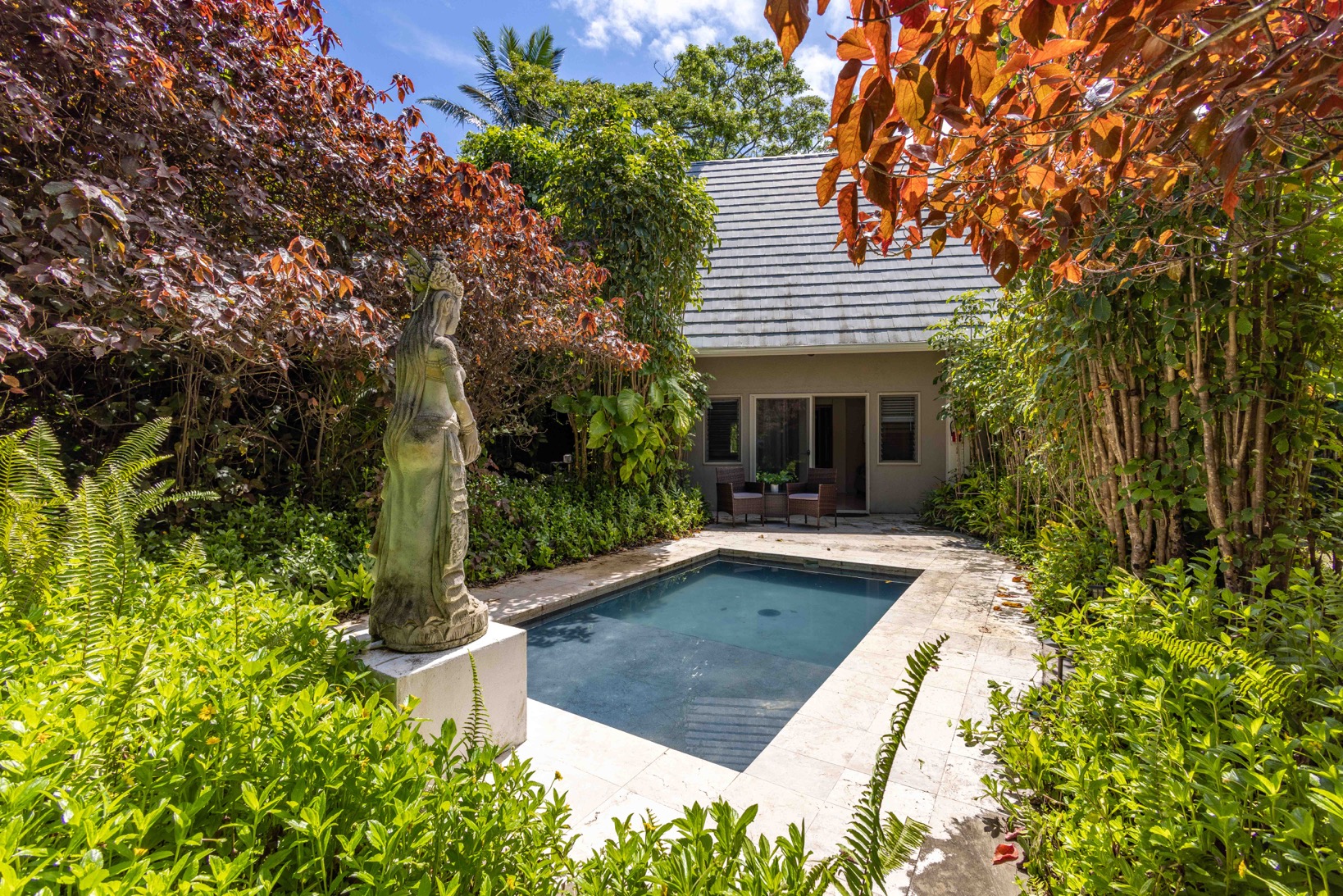 ROYAL
Rate per week per person with all meals included: 
$7,777
The ROYAL treatment is designed for those who wish to have the most spectacular, first-class accommodations. Stays in this category offer an architecturally stunning palatial atmosphere with stunning ocean views. Each sky-lit space is designed with sacred geometry principles in mind. Emanating temple-like peace and tranquility, these accommodations are beautifully decorated with intricate, hand-crafted furniture and rare artwork from around the world. Wake to sunrise views over the breathtaking ocean and go to sleep to a panorama of stars in the night sky. As a King or Queen – you will have fresh Hawaiian flowers delivered to your room and access to a private kitchen, a private pool, a sixty-foot salt water swimming pool, a private jacuzzi, a private waterfall, an infrared sauna, an organic farm, and insatiable views overlooking the pristine Hawaiian coastline.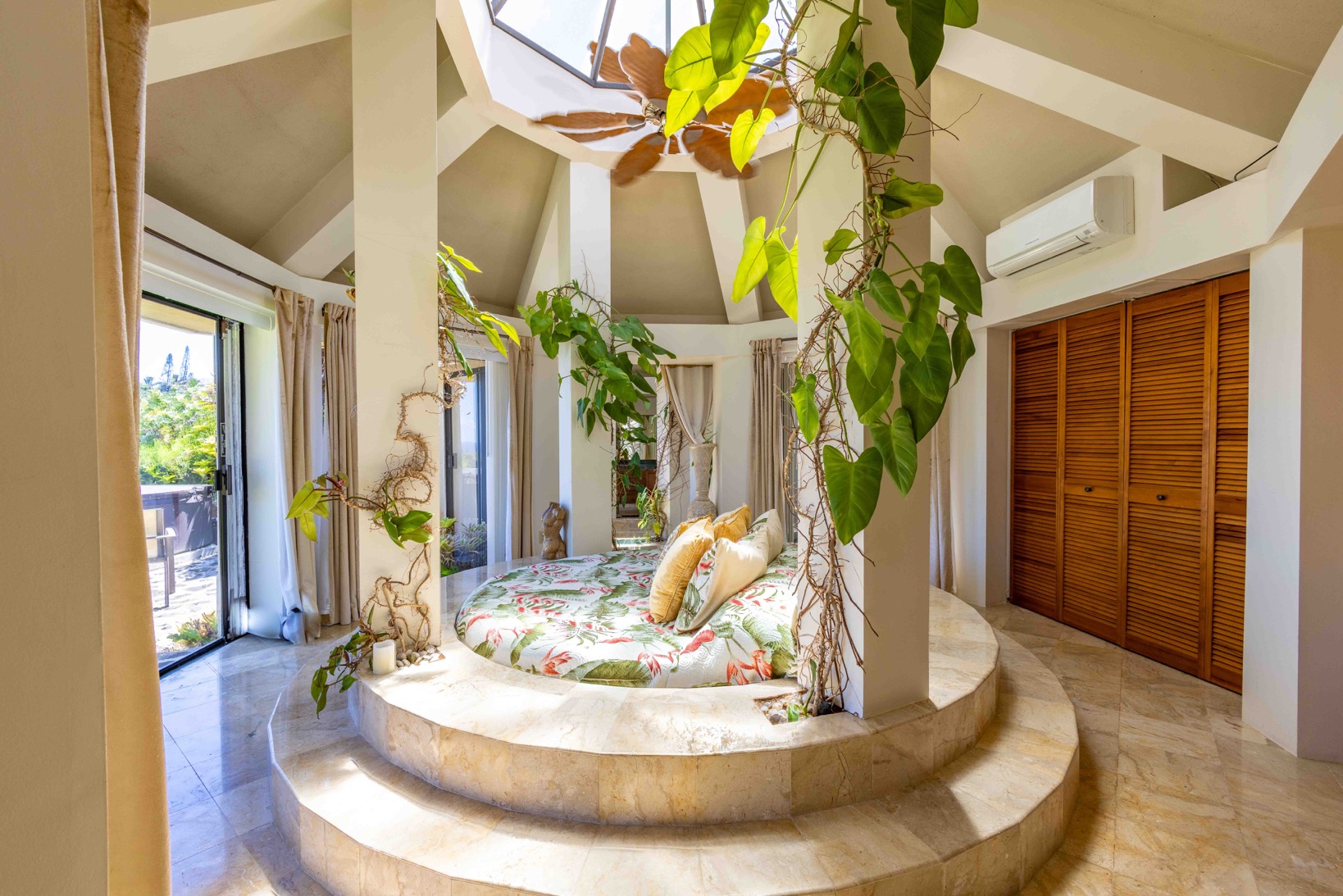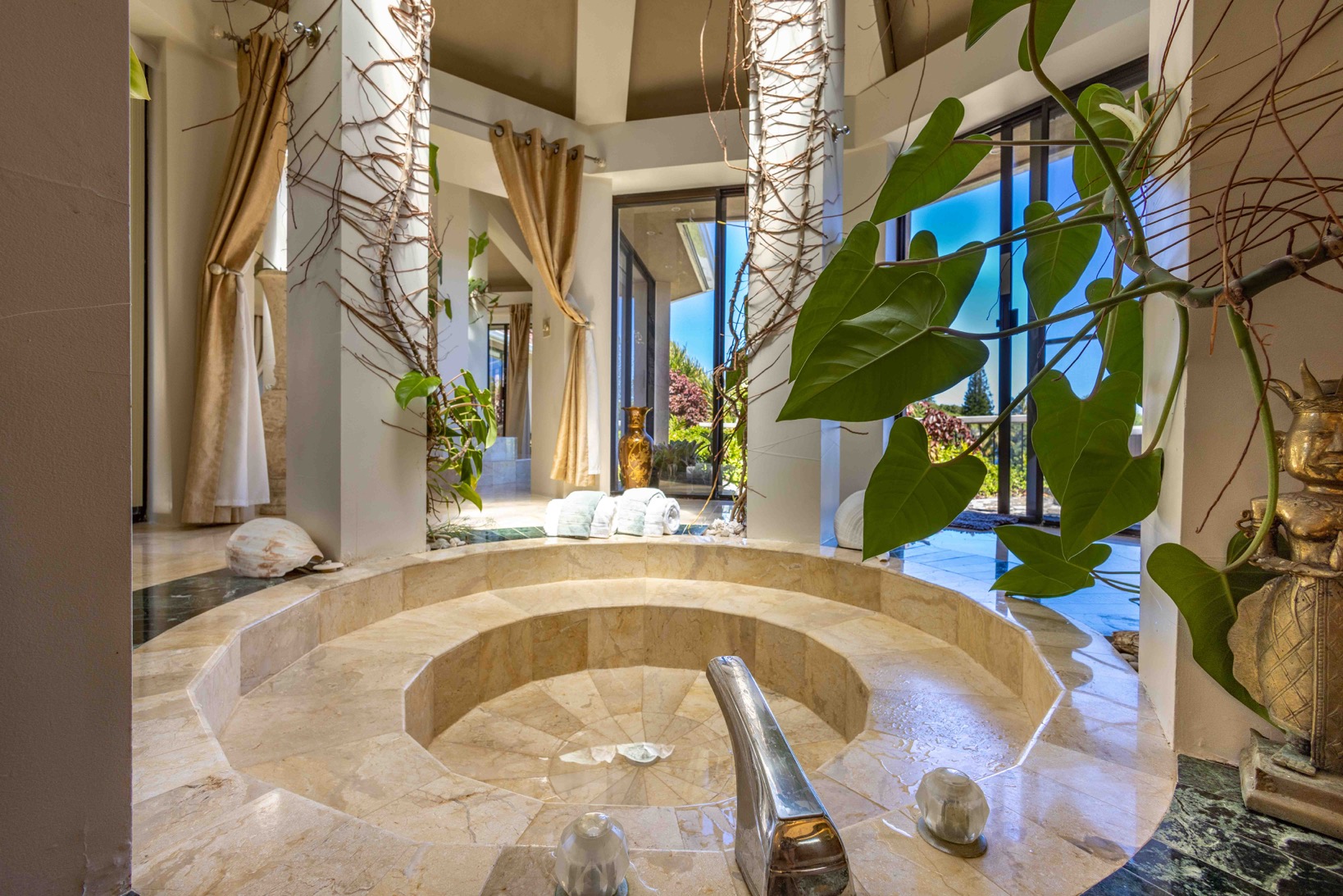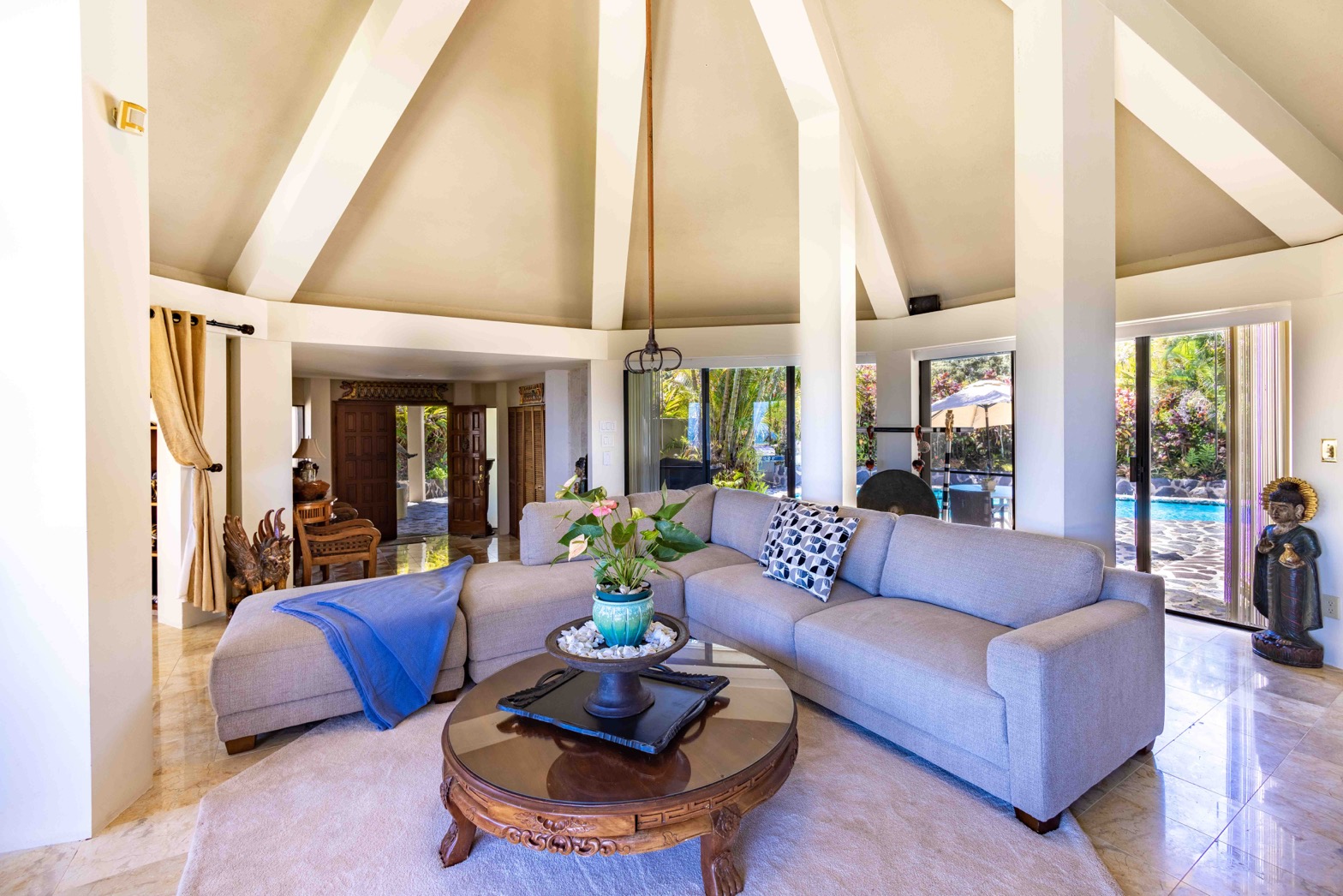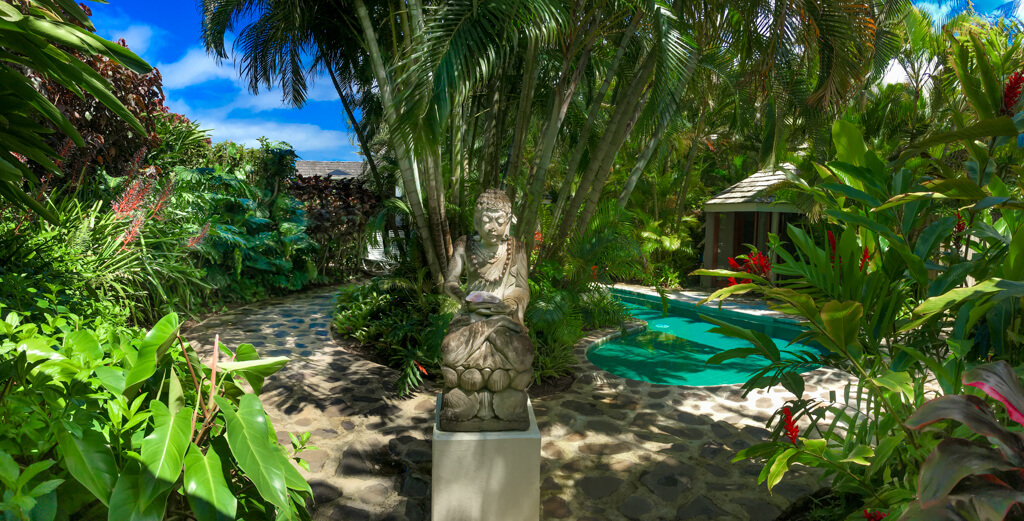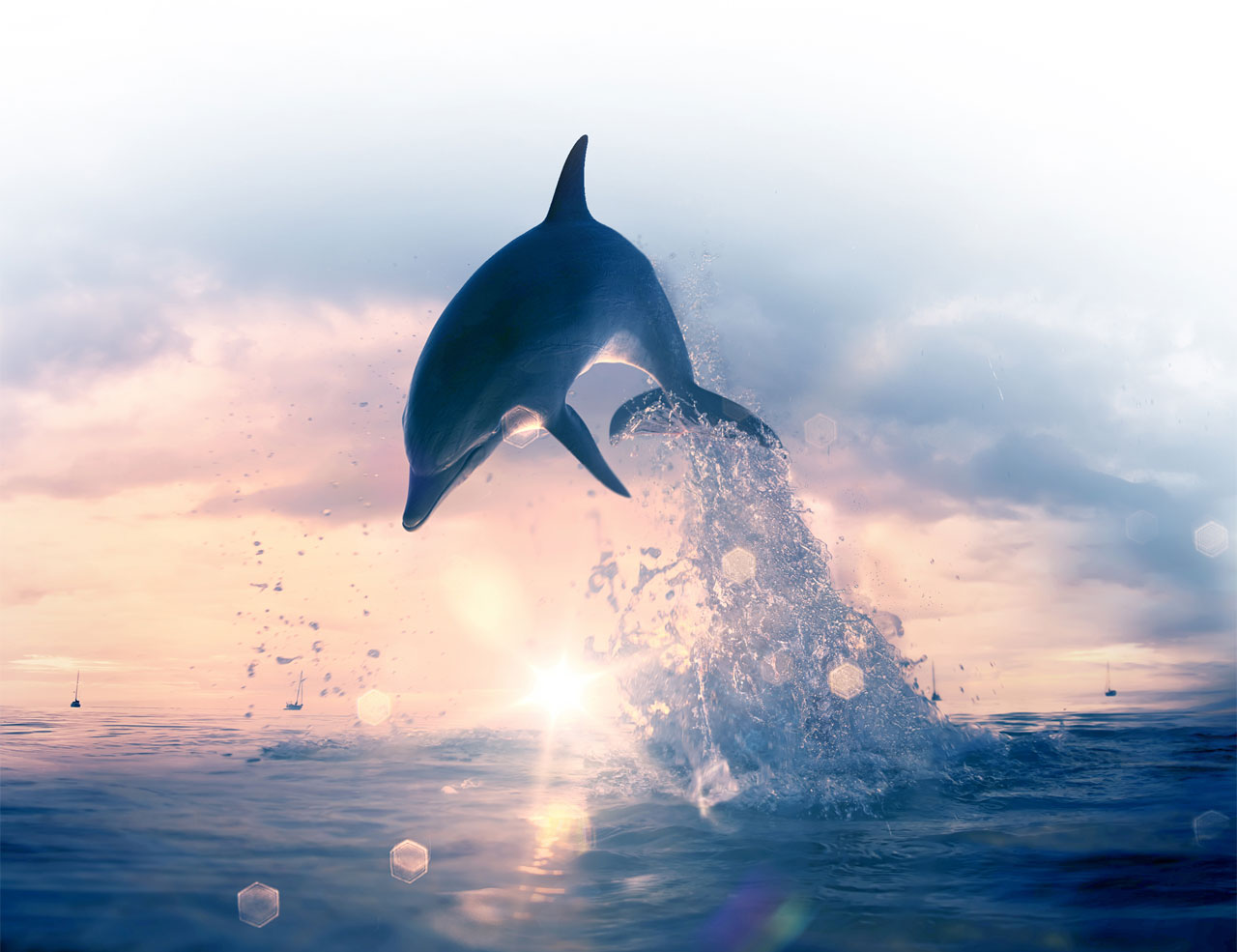 Frequently Asked Questions
Refund Policy
We can issue refunds less credit card fees and the non-refundable deposit ($500) until June 1, 2022.
After that, no refunds. 
Tickets are transferable.
Discounts
We honor time and community.
Accordingly, the early-bird discount is only available IF YOU PAY OFF YOUR FULL BALANCE before July 10, 2022
| Use code: EARLYBIRD for $222 off.
Also, if you bring two or more guests to join you on this retreat, we can offer you a special discount. Just let us know your situation, and we will make it work.
Payment
Final balances are due by August 10, 2022. If final payments are not received by this date, we reserve the right to cancel your reservation and accept new reservations in your space. Payment plans available. Once you submit your deposit ($500), we can work with you to establish a payment plan that works for you.
Room Reservations
Space is limited and will fill up fast.
We suggest that you reserve your space ASAP, as we honor booking requests on a first-come-first-serve basis.
Still Have Questions?
Call/text Shazi at ‭+1 (808) 382-5204‬ or leave us a message a below. Thank you!